Title:

The Beacon; My Siren


Author:

wild_terrain (ie.

fi_chan

)


Banner

(Made beautifully by

love_cassiopeia

):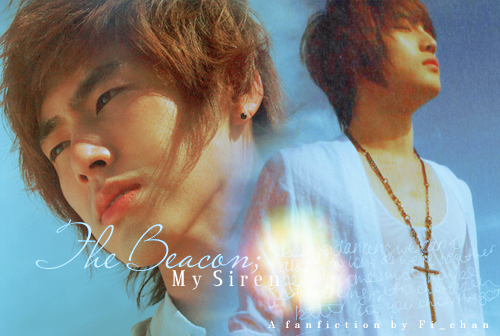 Chapter: [29/ ?]
Rating: MA15+
Genre: AU
[FLANGST, mystery, spirituality, romance]
Summary:
Philophobia…
The fear of falling in love or being in love. I didn't know such a thing existed until I met him… Kim JaeJoong was my age—a youthful 25 years—and the owner of a popular café, yet he was already known around town as the mysterious hermit who had chosen to completely withdraw from the world. How on earth could someone so young be afraid of loving others to the point of secluding themselves from all human beings? What was he afraid of? What was he hiding? I just didn't understand it. And by that stage, the need to understand it was all I could think about... In fact,

he

was all I could think about…


Jung Yunho…

For all of my life I had grown up away from the limelight. I couldn't stand being noticed by anybody, and for a long time I thankfully never was. But then

you

came and suddenly you were everywhere – waving to me as I swept the café after closing, saying hello to me as you cycled past the bench I was sitting on, helping me carry my groceries inside whilst talking non-stop to me as if we were actually friends… Why are you always around making my heart thump erratically? Why do you even care? The more you try to explore this town, the more I need to step up and protect you from your own curiosity, because I know

It

is out there and I know

It

wants to harm you…


Trailer:
CLICK TO WATCH~~

Beta =
moon1084
<3


A/N: Here we go, my pretties! Hmm, when my beta read the previous crazy chapter she was like 'loll you know, you're gonna have to have almost written chapter 29 when you post chap 28 because it's going to drive people crazy having to wait too long.' haha, and so I was like 'ho shit, so true' and I got my butt into gear to write and type chap 29 as fast as I could. So you can thank my beta for this, hahaha.


( I don't know what world I was living in... )